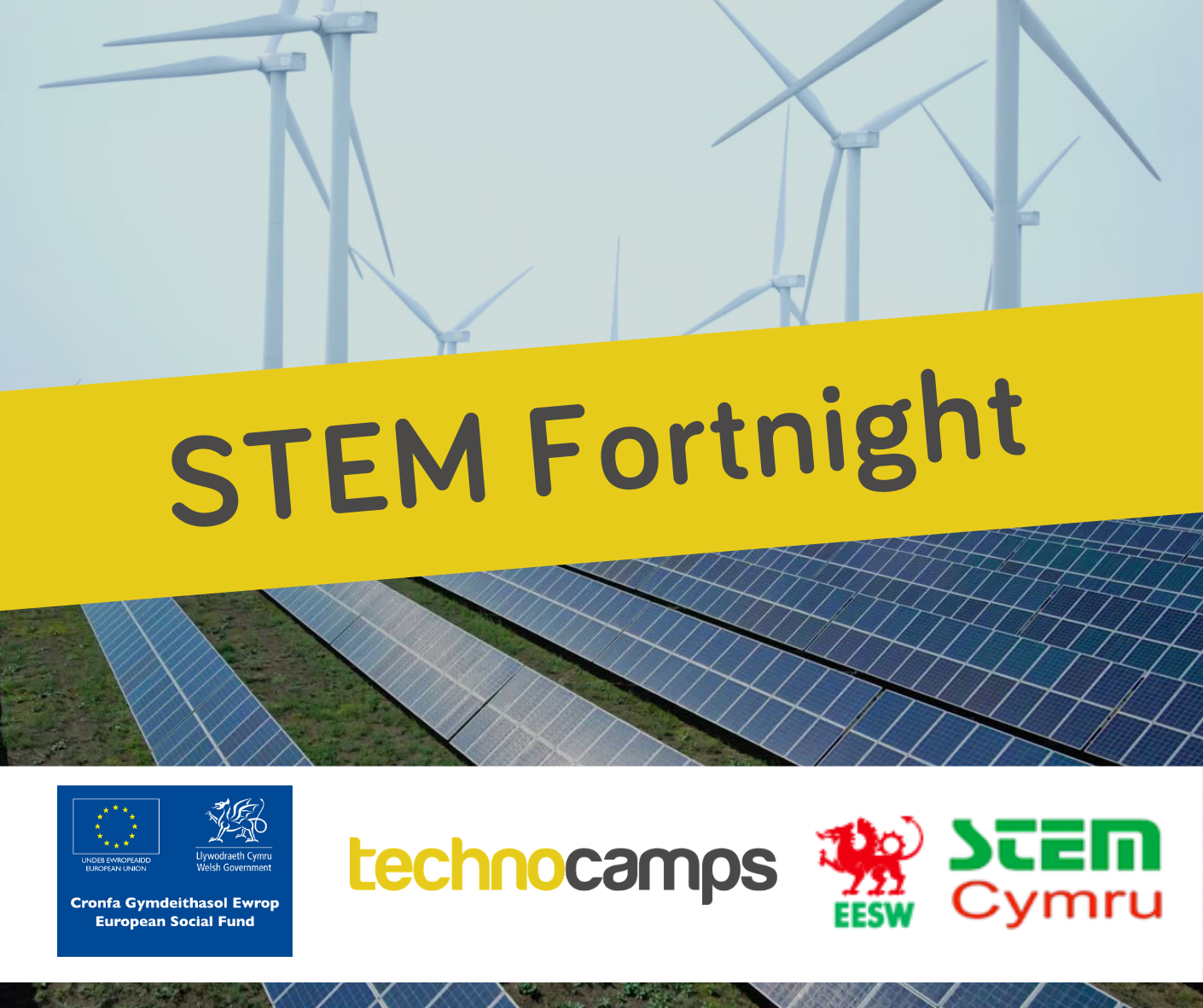 STEM Fortnight
Join us for two free STEM workshops focussed on renewable energy!
Between 18-29th January 2021, we're offering free STEM workshops for secondary schools in Wales, concentrating on Engineering and Computer Science. Sessions will be delivered virtually through Teams and all necessary kits will be sent to the school prior to the session. All you'll need is a projector, speakers, mic and webcam to participate.
Two workshops must be booked during the fortnight: 1 x 1hr in length AND 1 x 1hr 40 mins in length. Workshops can be arranged any time to suit your timetable and will be STEM-based. Workshops are available in English or Welsh.  
STEM Fortnight is a joint programme from Technocamps and EESW STEM Cymru for secondary schools in Wales, supported by the European Social Fund.  
Session information:
Wind Turbines in Wales (delivered by EESW STEM Cymru)
Duration: 1hr 40m (to cover 2 lessons)
This session will cover renewable energy in Wales including onshore and offshore wind turbines and challenges. We'll learn how wind turbines work and about the people behind the Engineering. Teams will then use a basic build kit to produce working wind turbines, calculate power in Watts using volt and amp measurements and improve their designs to increase power.
We will be creating a leaderboard of the wind turbines created by the teams by recording the amount of energy they produce. Can you make it to the top of our leaderboard?
Making and Modelling Renewable Energy (delivered by Technocamps)
Duration: 1 hour
In this session, pupils will discover how energy is generated from wind particles and how to develop a computational model of this interaction. Pupils will learn about the fundamentals of coding and how to work as a team of engineers to develop their very own wind turbine experiment.