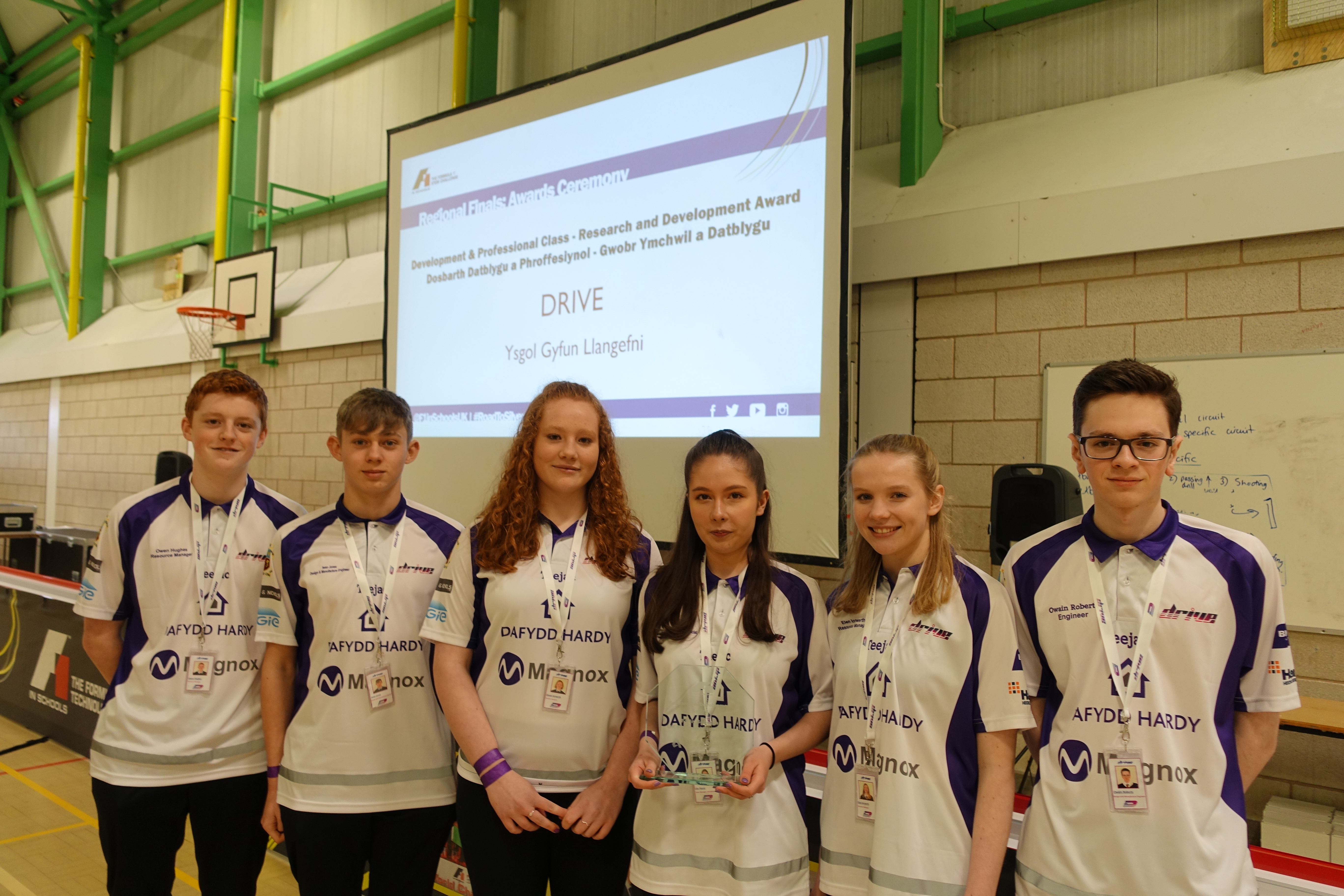 Winners represent Wales in Singapore
Front page article from this year's Talent magazine by Gwenno Williams, Ysgol Gyfun Llangefni
Drive, a team of six pupils from Ysgol Gyfun Llangefni, is embarking on a trip to Singapore as the Welsh champions of the F1 in Schools Competition. 
The competition revolves around a model F1 car that the teams must design using computer-aided design (CAD) software to produce drawings to make the car at an EESW manufacturing centre. As well as designing, testing and producing drawings for manufacturing their race car, the team had to design its pit display and put together a portfolio of its design process and gather sponsorship, which was generously given by a number of local companies. 
The team began its journey in March this year in the regional round of the competition organised by EESW and held in Denbigh.  After winning several awards and a place at the national finals at the Silverstone circuit, the pupils made their way to the British home of Formula 1 racing that was also a stage to display their many months of hard work.  Here, they were crowned the Welsh champions, won an award for their 'Team Identity' as well as being one of three teams nominated for two other awards.  This is a huge achievement for the team as it is the first school from Anglesey to reach this part of the competition and it is eager to do well in the name of its country. 
The team has had an overwhelming amount of support from the community in raising the £30,000 needed to travel and compete – which was no easy task.  In Singapore, Drive will be proudly flying the Welsh flag as it is the nation's representative team competing against 51 other countries.  It has further developed its car, hoping to have similar success as it did at the regional and national finals. Each member of the team has an allocated role that takes advantage of their individual strengths; this means that the workload is shared, making things run more smoothly.  This is crucial as there is a lot of development work and modifications to meet the high standard of the World final, and very little time to do so as the competition takes place early in September this year. 
One of the team members said "The F1 in Schools competition has allowed us to see engineering in a completely different light and given us so many life-changing and unforgettable memories. It has definitely had an impact on career choices for many of us as we have had first-hand experience of applying scientific knowledge that we already had in an exciting context to solve real problems. We also feel very humbled to have the opportunity to represent our country on such a world-wide stage."