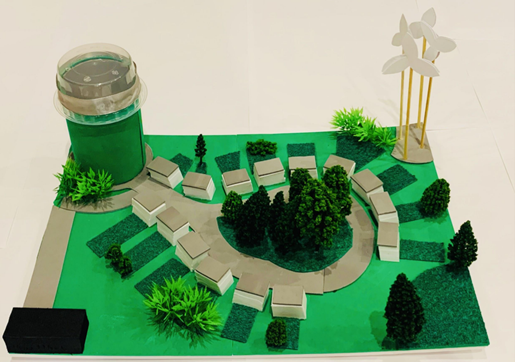 IET 150 Competition Winners Announced!
In celebration of the IET's 150th anniversary year, EESW and the IET launched the 'IET 150: My Sustainable Community Competition' which challenged young people aged 7-14 to design and build a sustainable community.
The community needed at least 150 homes to accommodate the residents and entrants were encouraged to explore areas such as food, water, shelter, energy, and public transport. The project enabled young people to explore the fundamentals of sustainable living by taking inspiration from their local community. Entrants were instructed to design their very own sustainable community and investigate some of the environmental challenges we are facing.
The competition was open to two age groups of 7–10-year-olds and 11–14-year-olds, and entries were received from categories of individuals, small groups, and large groups. We'd like to give a special shout out to our youngest participant Reuben Bailey who, at just six years old knew he wouldn't be able to win a prize but loved the topic and wanted to take part anyway - great work, Reuben! 
We'd like to thank our judges, Ken Newis and Chris Evans for volunteering their time to look at the entries we had from 259 young people across the UK, and you can watch our video at https://www.youtube.com/watch?v=k52Q2l3Z5aE&t=95s to find out what they thought about our finalists' entries.
We are pleased to announce that the IET 150 will award the winning entry from each competition class and each age category with a LEGO® Education SPIKE™ Essential Set or LEGO® Education SPIKE™ Prime Set and we will be sending certificates to all those who took part.
The Winning Entries are:
Age 7-10:
Individual – Sophie Golden
Small Group – Sunshine Fields
Large Group - Borthyn Inventors
Age 11-14:
Individual – Rosalind Finn
Small Group – Bedfordville
Large Group - The Sustainable Landmarkers
A big thank you and well done to everyone who took part in the competition, and congratulations to all of our winners.
We hope you enjoyed taking part in this competition to celebrate 150 years of the IET. For more fun STEM activities and resources, visit: https://education.theiet.org/